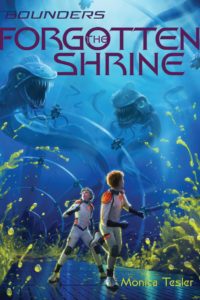 On December 12, 2017, the third book in the Bounders series, The Forgotten Shrine, will be out in the world. I'm so excited for all of you to find out what happens with Jasper, Mira, and the rest of the pod in their next adventure. Plus, I've been waiting a long time for Jasper's younger sister, Addy, to ship out for the EarthBound Academy, and now it's finally her turn!
Thanks so much to everyone for making the Bounders series such a success and for allowing me the chance to write more stories about this awesome group of kids!
To say thank you, I'm having a special, preorder giveaway. If you've preordered The Forgotten Shrine, take a picture of your receipt and email it to me along with your mailing address. I have some very special, limited edition Bounders swag that I'll send to you. Want to see?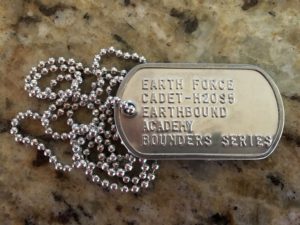 Here it is! I'm giving away custom made EarthBound Academy dog tags as a special thank you for all your support. There are only two ways to get one. First, you can preorder The Forgotten Shrine and email me your receipt. Or, second, you can come to my launch party for The Forgotten Shrine on December 12 where you'll get your very own dog tag, and I'll sign your book. Plus, there will be lots of other fun stuff happening that night!
All the details for the launch party are pasted below. The festivities are happening at  Barnes & Noble at the Derby Street Shoppes. And guess what! I'm so excited to share with you that the awesome, local middle school band, LOW TIDE, will be performing. So come ready to talk books and rock out!