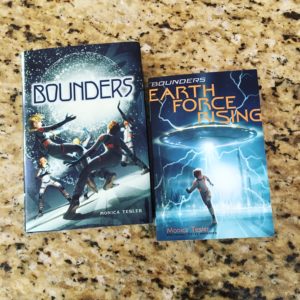 Today is Bounders' first birthday! On this date, one year ago, Bounders came into the world, and my dream of becoming a published author came true.
In some ways, it feels like the year flew by. But in other ways, a year seems about right. After all, in the past twelve months, I revised the second Bounders book, drafted the third Bounders book and turned it into my editor, and launched The Tundra Trials (Bounders #2). I also reviewed the artwork for the new cover and talked with my publisher about the new episodic title for Bounders. In December, Bounders was released in paperback as Earth Force Rising (Bounders is now the series name). Isn't the new cover cool?
To celebrate Bounders' birthday, I'm rolling out a new book recommendations initiative. Those of you who came to the launch party for The Tundra Trials knows this was in the works. As I visited schools over the past year, I realized that there aren't many formal book recommendations for fans of science fiction, fantasy, and adventure series. Readers find out about books from other readers, which is awesome! But it got me thinking, what if we could broaden the reach of some of those recommendations?
At my launch party, I invited kids to give book recommendations, in the form of "If you like Bounders, you might like ____________," and a few reasons why. We generated a really great list. I'm including some of those recommendations below. I hope to keep the recommendations coming, and maybe even expand a section of my website for them.
If you're reading this, and you have a book recommendation for fans of the Bounders series, send me an email!  Soon you may find your recommendation up on my site. If you'd like me to include your name and last initial, let me know.
Also, if you were at my book launch and your recommendation isn't included below (or doesn't include your name and initial), let me know! The recommendations were coming so fast, we couldn't keep up with all of them.
Book Recommendations from Bounders' Fans:
Books for Upper Elementary and Middle School Readers:
Percy Jackson and the Olympians (Rick Riordan), recommended by Marin T.
The Unwanteds (Lisa McMann), recommended by Sam O.
The 39 Clues Series (multiple authors), recommended by Grace B.
The Harry Potter Series (J.K. Rowling)
The Five Kingdom Series (Brandon Mull), recommended by Nathan T.
Magnus Chase and the Guards of Asgard (Rick Riordan), recommended by Meredith T.
The 13th Reality (James Dashner), recommended by Cameron F.
Pendragon (MacHale), recommended by Grace B.
Wondla (Diterlizzi)
Books for Older Readers (Young Adult Category):
I Am Princess X (Cherie Priest), recommended by Kate D.
The Maze Runner (James Dashner), recommended by Cameron F.
The Hunger Games (Suzanne Collins), recommended by Grace B.
Divergent (Veronica Roth)
Eragon (Christopher Paolini), recommended by Ben R.
Enders Game (Orson Scott Card), recommended by Margot W.
Lorien Legacies (Pittacus Lore), recommended by Sam S.
The Fog Diver Series (Joel Ross), recommended by Theran G.
The Scare Scape Series (Sam Fisher), recommended by Theran G.