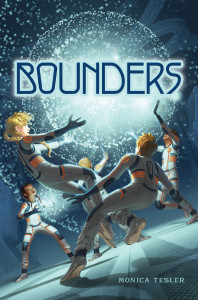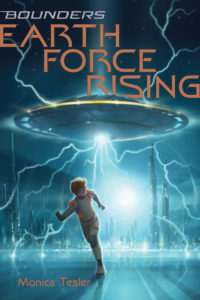 BOUNDERS 1, EARTH FORCE RISING
The paperback releases on December 13, 2016 with a new cover and episodic title — Earth Force Rising!
Bounders have always known they were different, but they never suspected they were the key to saving Earth.
Jasper Adams is excited to join the Earth Force military agency as part of its first class of Bounders, a team of kids training to be elite astronauts. He can't wait to connect with others like him and learn to pilot spaceships that can travel across the galaxy in an instant.
But when Jasper arrives at the space station, nothing is as it seems. Security is sky-high, and Jasper and his new friends soon realize that Earth Force has been keeping secrets—one of the biggest being a powerful, highly-classified technology that allows the Bounders to teleport through space without a ship. Only Bounders can use this tech, which leads Jasper to a sinister truth—humanity is facing a threat greater than any they've ever known, and Bounders are the ones standing between their planet and destruction.
Will Jasper and his friends rebel against Earth Force for hiding the truth or fulfill their duty and fight for their planet? The fate of Earth may rest on their choice.
Add it on Goodreads
Buy signed & personalized copy at Buttonwood Books & Toys*
Also buy at Simon & Schuster | Amazon | Barnes & Noble | IndieBound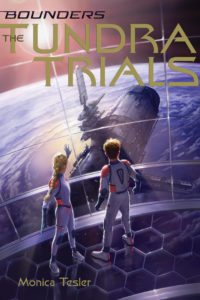 BOUNDERS 2, THE TUNDRA TRIALS
The Tundra Trials releases December 13, 2016 and is now available for preorder.
Jasper learns that secrets can strain even the strongest bonds as the Bounders adventure continues in the Tundra Trials.
After discovering that Earth Force is waging a covert alien war, Jasper and his friends return to space and continue their training. This time, Earth Force brings them to the remote planet of Gulaga, where the cadets compete in the Tundra Trials: a grueling pod race across the planet's frigid landscape.
But when their pod leader asks Jasper and Mira to secretly test a dangerous new technology that will take their Bounder abilities to the next level, the kids begin to suspect that there are rifts within Earth Force. The worst part? Jasper must keep the truth from everyone—even his own pod mates.
When Earth Force prepares for an attack against the aliens, the kids are tasked with a treacherous mission. With their loyalties torn, will Jasper and his friends once again fulfill their duty and fight for their planet? And if they do, will the secret tech work as planned or lead their enemies to their doorstep?
Add it on Goodreads
Preorder signed & personalized copy at Buttonwood Books & Toys*
Also preorder at  Simon & Schuster | Amazon | Barnes & Noble | IndieBound
* For signed books from Buttonwood Books & Toys, please include signing and personalization requests in Order Comments section of electronic checkout or contact the store for assistance.
Praise for BOUNDERS
Children's Book Council, Seasonal Showcase Selection, Lions and Lambs, March 2016
"A richly detailed, highly imaginative world and a cast of clever, creative kids. Readers will be eager to bound into the next book." (Shannon Messenger, author of the Keeper of the Lost Cities series)
"A sci-fi space adventure sure to please middle-graders looking to get hooked on a new series." (Booklist)
"Bounders is a joyful space adventure full of humor, friendships and action. This is a great sci-fi adventure for boys and girls alike. I had so much fun reading it!" (S.J. Kincaid, author of THE DIABOLIC and the INSIGNIA series)
"[S]hines in its depiction of neurodiverse characters, especially Cole and Mira, as Tesler uses familiar SF conventions to show that kids with ADD, autism, or other conditions can be as heroic as anyone else." (Publishers Weekly)
"Fans of Ender's Game will feel right at home in this fast-paced debut…I read it in a day, unable to put it down, and look forward to more from this promising new author!" (Wesley King, author of The Incredible Space Raiders from Space! and OCDaniel)
"Students looking for a mix of adventure and science fiction will enjoy the quick pace of this title. . . . Libraries will want to add this title to their shelves so science fiction newcomers will find something to capture their attention and find a new genre to explore." (School Library Connection)