On December 13 — just 6 weeks away — the second book in the Bounders series, The Tundra Trials,  releases. On the very same day, the first book in the series releases with a new cover and title, Earth Force Rising.
To celebrate the releases and show my appreciation to all my readers, I'm offering a Preorder Giveaway. If you preorder either The Tundra Trials or Earth Force Rising before November 30 and email me proof of preorder and your mailing address, I will send you a special swag pack. If you've already preordered, that is so awesome! Just send me the same information.
Look at the fun stuff you'll get: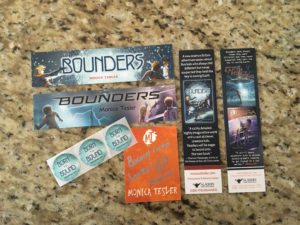 A classic Bounders bookmark
A new bookmark with The Tundra Trials & Earth Force Rising cover art
A signed bookplate
Three Born to Bound stickers!
I'll mail the swag pack to you during the first week of December, so you should have it by the time you receive your book.
So remember, email me at monica@monicatesler.com by November 30 with your proof of preorder (like an electronic receipt or screenshot of the order) and mailing address, and the swag pack will be heading your way! If you'd prefer to have your actual book signed (and receive the swag pack), place your preorder with my local independent bookstore, Buttonwood Books and Toys, making sure to put your signing/personalization request in the comments section.
Thanks so much!